Barcelona
Answered a series of questions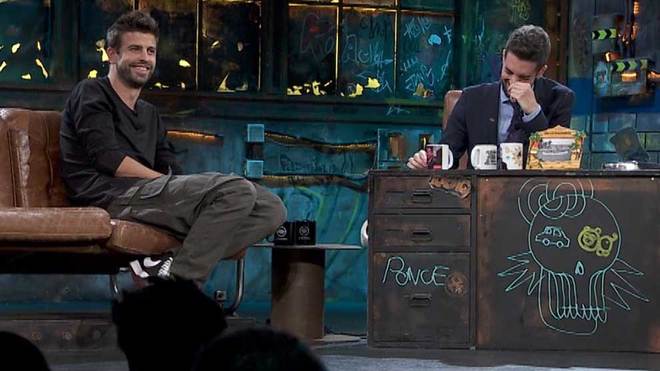 Barcelona centre-back Gerard Pique returned to 'La Resistencia en Movistar' for a new face-to-face interview with David Broncano.
Pique appeared on the show last season and did not disappoint when Broncano asked him, "how much have you fucked?"
"Does the [Estadio Santiago] Bernabeu count?" Pique responded.
One of the highlights from the program was when Pique replied to one of the tweets on 'La Resistencia'.
"Yesterday you called me Luis Figo and I had to become Luis Figo in the dressing room," was said.
"Suck my cock. [By] Figo," Pique wrote after being handed a picture of a tweet which had Liverpool's winning goal against Barcelona.
Broncano offered Pique the challenge of buying something expensive off of Amazon, which the Catalan accepted.
The host of 'La Resistencia' offered him to buy a stone sculpture that is two meters tall and 2,500kg, with a valuation of almost 38,000 euros.
"It's ugly as shit," Pique replied while laughing.
Suelta la gallina, @3gerardpique#LaResistenciapic.twitter.com/xGekk0hNEn

? La Resistencia en Movistar+ (@LaResistencia) October 10, 2019
The 32-year-old also spoke about his Davis Cup model, stating that "Shakira is going to do the closing ceremony of the Davis."
Pique also proposed that Broncano does a special performance of 'La Resistencia' at La Caja Magica – the venue for the Davis Cup – in Madrid in front of 3,000 people.
ATENZIONE
Programa especial de La Resistencia en la Caja Mgica ante ms de 3.000 personas. pic.twitter.com/dJcjQDzbcw

? La Resistencia en Movistar+ (@LaResistencia) October 10, 2019