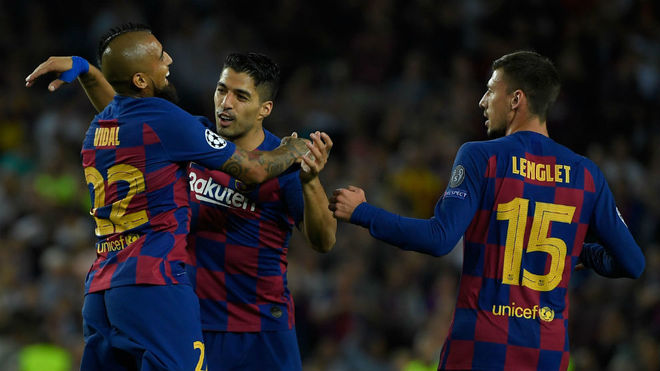 The three points that Barcelona won on Wednesday are an excellent prize. They weren't an excellent team and they didn't play an especially good game, they turned the score around with an acceptable second half.
That's what Lionel Messi and Luis Suarez are there for, to get chestnuts out of the fire when the team gets stuck. However, the first half was not merely a simple struggle, Inter outplayed the Catalan giants, both tactically and out on the pitch.
The game played by Antonio Conte's team in the first half reminded Barcelona of their best years. The Italian's ability to get the ball, controlled from Samir Handanovic and then gradually move it towards Los Cules' goal was surprising. They did it up to five times, overcoming an impotent Barcelona pressing game. A 3-0 scoreline at half time wouldn't have surprised anyone.
Because, if in defence the team was overrun, in attack they merely continued to slam against the brick wall which was the Italian defence. The forwards added nothing and there was no space on the flanks. Sergi Roberto barely got forward and Nelson Semedo, on his weaker side, was unable to create danger.
The result was a half to forget, and it's not the first time this season Ernesto Valverde's charges have given away the first 45 minutes, just look at Athletic Club, Osasuna, Granada and now Inter. That's a lot of matches.
Roberto creates doubt. It's not been his best season and on Wednesday he simply gave the ball away too many times. He was on the receiving end of whistles from the crowd and still looks to be unclear on whether or not he is a midfielder or a full-back.
Sergio Busquets was withdrawn once again as Valverde made the same decision as he did against Borussia Dortmund. It's clear that the Spaniard has lost his untouchable status. De Jong waits to take his spot.